| | |
| --- | --- |
| X and 0 Sratch Card Game | |
Scratch 9 squares, receive
three identical symbols
in a row and win up to
$200,000
!!!
For example: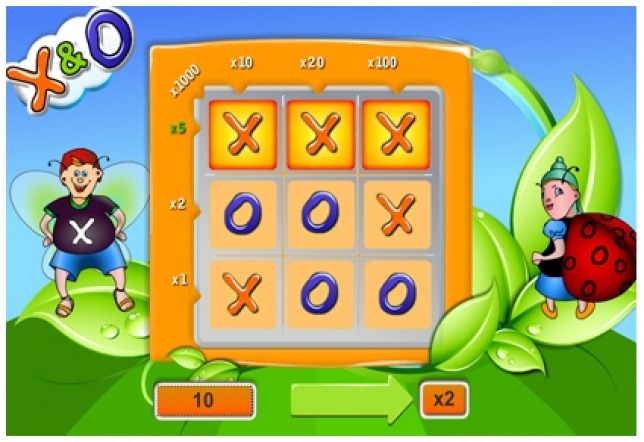 In the example above there are 3 'X' symbols located horizontally in the upper row. The card price will then be multiplied by 5 according to the paytable and then multiplied by the 'Multiplier' area by 2. Thus the total wins for this card according to the formula is 10 times the card price.
How to play X and 0 Scratch Game
Choose the amount you wish to bet by clicking on the + or – choice attached to the button labelled 'Bet' located in the menu bar.
Click on the "PLAY" button or space bar in order to start the game and receive your game number located on the left hand side of the screen.
The game consists of 9 scratchable areas which contain an 'X' or 'O' symbol. Manually scratch the areas, to reveal the symbols.
If you receive 3 identical symbols in a row; horizontally, vertically or diagonally you are a winner. Please note that the symbols should be either all 'X's' or 'O's'.
Click on the square located next to the 'Win Multiplier' to reveal the amount that your prize will be multiplied by. This is located on the bottom right hand side of the screen.
Alternatively you may click on the 'Scratch All' button which will automatically scratch all the scratchable areas in the game.
Your win will be determined according to the allocated paytable that appears next to each possible winning line.( horizontal, vertical or diagonal).
Your 'total wins' is calculated according to the following formula: your card price multiplied by the paytable (which appears next to your winning line) multiplied by the 'Win Multiplier' (that appears on the bottom right hand side of the screen).
The prize will then be added to your account balance.
As a newcomer to Karamba scratch cards website, you will receive welcome bonus of (no deposit required). So, you will enjoy playing for real money, right from the start of your journey with exciting scratch cards games. Enjoy! and
Good Luck!

Please go Back to Karamba website where, you can discover other featured games and more informations about Karamba brand. You should know that, at Karamba.com are available over 50+ various scratch cards, scratch slots, slot games and instant games.

You may also go Back to Scratch Cards where, you can discover Karamba's sister sites, like

Scratch2Cash

and

Hopa.com

. Each site offer the same range of exciting scratch play. As well, you will get $5,- free real money play, separately on each site. Enjoy!